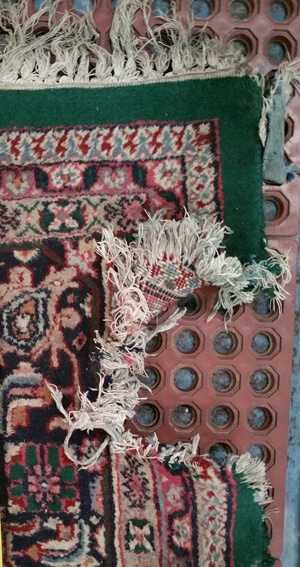 We are able to offer repairs for ANY damage or modification your rug needs. Rugs needing repair must be cleaned before any repair can be made to your rug. All handmade rugs needing repairs are repaired by hand unless otherwise noted. This list below is not totally comprehensive and rugs needing repair will need to be picked up or brought to our facility where we can properly address and price any and all repairs to be completed.
We can repair the following:
- Fringe matching, replacement, or reweaving
- Side cord overcasting by hand or by machine
- Machine Binding sides and ends
- Resizing
- Color Correction
- Patching holes, tears, or other similar damage
- Reweaving holes, tears, or other similar damage
- Rug shearing (removes the sprouts, small tufts of pile, naturally appearing overtime on the top of your rug)
- Preparing rugs for wall display
If your repair was not listed above please contact us so may address your individual needs.