Our cleaning process is customized to your individual rugs' needs. The great diversity of weaves, condition, age and types of soil found in rugs must be treated differently in order to safely and thoroughly remove both the abrasive grit and the atmospheric soils that dull their colors and cause accelerated wear. We utilize the steps below to best clean and protect your rug(s).
Pre-Inspection:
Whether we pick-up at your home or you bring your rug to our facility, an experienced staff member first examines the condition of your rug.  It is documented on your work order with any special client concerns.  Our thoroughness assures that all of your rugs' needs are met during our cleaning process.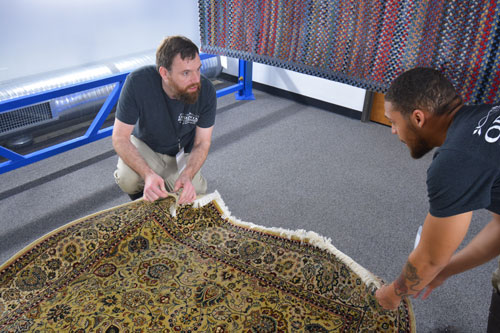 Dry Soil Removal:
Over 70% of the soil in your rug(s) is dry, particulate soil that your vacuum can't get to. Over time, this soil and grit build up and damage rug fibers, causing accelerated wear and damage to your rug.
The first and most important step we perform is dry soil removal. Through the use of mechanical action we are able to remove literally pounds of dry soil, restoring your rugs' fibers to a soil and grit free state.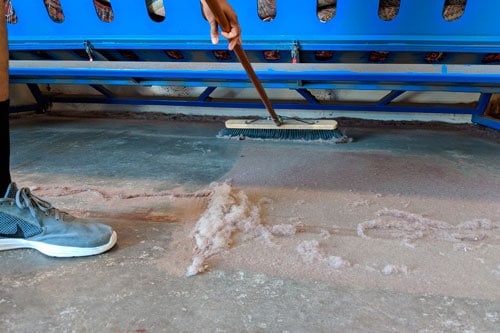 Washing:
We only use surfactants that are biodegradable and environmentally friendly. Many of these surfactants are certified as "Wool Safe", an international chemical certification group. This means that the solutions we are using in our cleaning process are guaranteed to not harm or degrade wool fibers or leave unnecessary residues behind after the cleaning.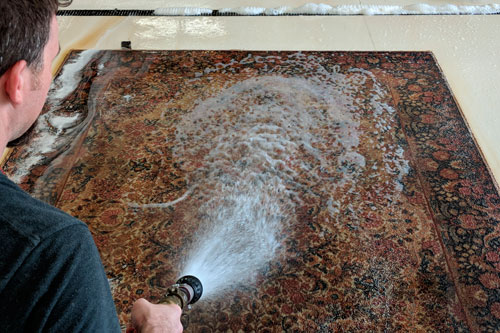 Our cleaning is truly a hand washing, we are able to give individual care and attention to the specific needs of your rug. How we perform the wash is determined by the condition and soil found in your rug. The fringes are given careful attention and thoroughly detailed. During the washing we address any spots or specific stains.
Following the wash, a thorough rinse is given. After the final rinse we utilize a machine called a centrifuge. This machine acts similar to the spin cycle on your washing machine and gently wrings the excess water off of your rug, up to 95% of the moisture is removed.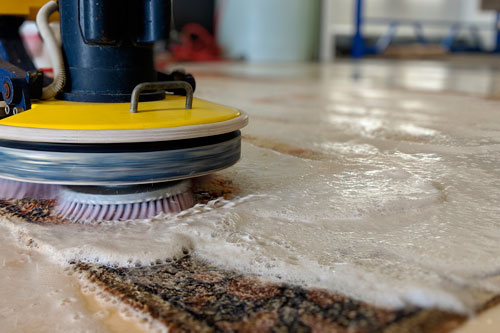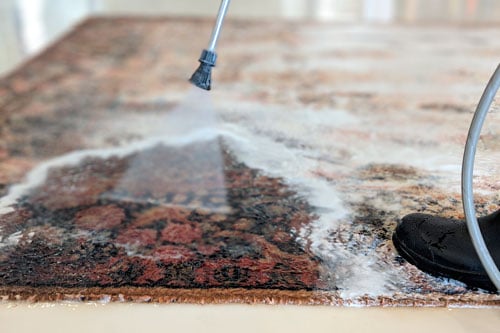 Drying:
We are able to remove up to 95% of the water on the rug during the cleaning process which shortens our dry times significantly, allowing us to return your rug(s) in less time than our competitors. Before your rug enters our heated dry room, the pile and fringes are groomed for a uniform look once dry.
Our process utilizes a temperature and humidity controlled drying environment. We are able to provide dry times as short as 3 to 4 hours after our cleaning process. Prolonged dry times are the major cause of many issues created by most rug or carpet cleaners. Rugs can dry stiff, colors can bleed or run, browning and yellowing of fringes can be a major problem, and mold and mildew can begin to grow on the rug in as little as 24 hours if not properly dried.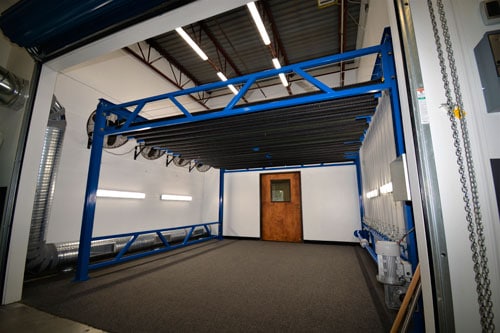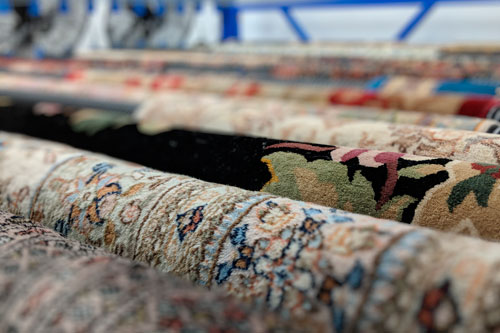 Final Inspection:
Once your rug is completely dry it is given a thorough final inspection. Any spots that did not come out in the wash are address once more and the rug is vacuumed one final time. The rugs are then rolled and ready to be picked up or client is called to schedule a delivery date.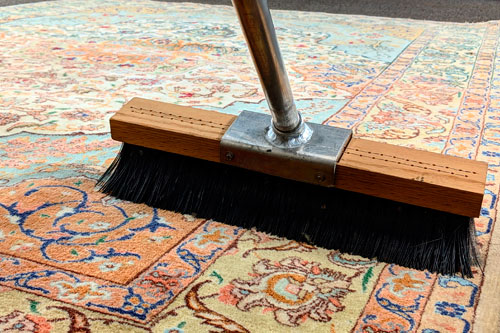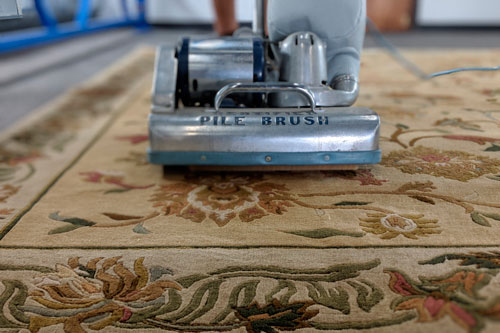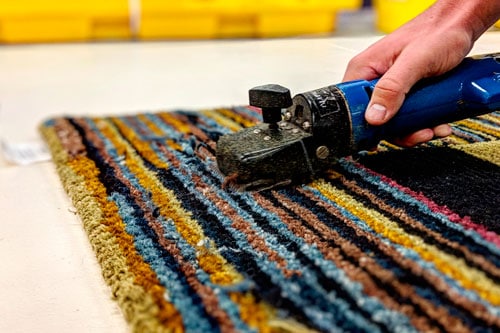 Before and Afters (click image for larger photo):